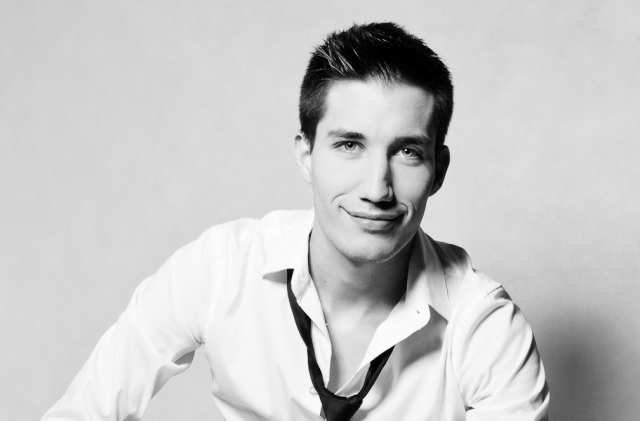 Gatti Di Amalfi feat Pál Dénes
BRAVE NEW WORLD (SZÉP ÚJ VILÁG)
ZENESZERZŐ: Dobrády Ákos, Moldvai Márk
SZÖVEGÍRÓ: Jónás Vera
ELŐADÓ: PÁL DÉNES
Nézd újra a produkciót!
Az elődöntőben a zsűri pontozása:
| | | | | |
| --- | --- | --- | --- | --- |
| Magdi | Jenő | Kati | Philip | Összesen |
| 10 | 8 | 10 | 10 | 38 |
Zsűri pontszámai alapján jutott tovább a harmadik elődöntőből.
1991. március 19-én született Diósgyőrön, de Miskolcon nőtt fel. 2008-ban kezdett énekelni. A 21 évesen  musicalénekesként szerzett színpadi tapasztalatot Miskolcon. Dénes a  Voice című tehetségkutató műsor 2013-aselső szériájának győztese volt.
Pál Dénes:  Brave new world
zene: Dobrády Ákos, Moldvai Márk
szöveg: Jónás Vera
Hand in hand again
Let's fly away tonight
Another land awaits
For you me my love
A planet problem free
Full of wrightlessness no harm can touch our love
This is all I need
Give me time and space to spread this happiness
Dadada….
See a brave new world in me
Dadada…
Fill a brave new world and see
So It's you and it's me come
And fly into space set me free
Landing throught the sky
Sail with me again
Another a life awaits
It`s only ours again
The sun shines on us
When it paints the blue skies taken from the dawn
Freely only us
Give us time and space to build eternity
Dadada….
See a brave new world in me
Dadada…
Fill a brave new world and see
So It's you and it's me come
And fly into space set me free
Voices in the deep
Whispered from the heart
Guide the light to sleep
We're finally home my love